Devonian Charters
Enjoy fishing for Salmon, Halibut, Cod & Crab 'Shoreline' or 'Offshore' at Swiftsure Bank. Many other services including Fresh Water Fishing, Scuba Diving, Ocean & River Kayak Tours, Kite Boarding 2 day intro courses. Visit devoniancharters.com for full info, including what to bring with you on your charter.
About Devonian Charters:
DEVONIAN is a luxurious 30ft x 10ft "Northwest Aluminum" dive/fishing boat, fully equipped & outfitted with heated cabin & head and a self-inflating Zodiac life raft for off-shore expeditions.
We can accommodate big groups! Up to 6 people on one boat, no need to split up groups.
The owner/operator is a Department of Transportation 'Masters Limited Captain' Mr. John Lum with 25 years of local marine experience
Rates & Policies
Salt Water Fishing on 'Devonian'
Off Shore 'Swiftsure Bank' - 8 hours: $1200
West Coast Shoreline - 4 hours: $500
West Coast Shoreline - 8 hours: $1000
Sooke Shoreline - 4 hours: $500, 8 hours: $675
Prices are based on 4 persons. Can accommodate up to 8 with an extra charge for each person after 4.


Scuba Diving Boat Charters on 'Devonian'
Sooke/Victoria Race Rocks 3 hours: $75 per person
2 dives - 5 persons min, 8 persons max
Westcoast Shoreline 8 hours: $325 per person
Multiple dives - 4 persons min, 8 persons max


All prices based on Canadian Funds
5% GST added to all charter services/US currency accepted
Check our policy in order to make your booking
An initial 20% Reservation deposit is required for your booking. Cancellation Policy: 30 day notice
Cancellations not made before the applicable time period may result in forfeiture of the full reservation deposit, that is unless we are able to re-book, at which time you only will be charged the $25.00 booking fee.
Contact Devonian Charters: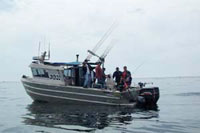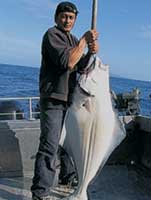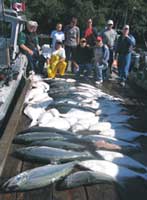 Devonian Charters
john@devoniancharters.com
Sooke: (250) 642-0244
Cell: (250) 889-4032