No Bananas Fishing Charters
Come let No Bananas take you out for an exciting day on the water. Whether you want to fish the wild west coast in Port Renfrew or the Victoria/Sooke waters we will give you an experience of a lifetime.
Your captain Trevor has 25 years experience of full-time guiding so whether you want to catch halibut, salmon, or cod we know where and when.
Our spring time halibut chaters (Feb-June)book up fast, so book early for best dates! Call 1-250-812-2123 or email now to book your own fishing adventure with No Bananas Charters.
No Bananas is fully insured and Transport Canada certified.
Fishing Seasons
Victoria/Sooke area: All year - salmon and halibut
Port Renfrew: May to October - salmon and halibut
Rates & Policies
Victoria/Sooke Rates:

Full day: $800
Half day salmon (5 hours): $500
Half day halibut (5 hours): $600
Rates based on up to four people per boat. $25/hr for each extra person

Port Renfrew Rates:

Full days only
Full day salmon and halibut: $1,200
Rate reduced to $1,100/day for two or more days
Rates based on up to four people per boat. $100/day for each extra person

50% deposit required at time of booking
All rates subject to GST
No Bananas Fishing Charters offers:
Victoria/Sooke: 2015 28ft custom aluminium heated cabin fishing boat
Port Renfrew: 27ft custom aluminium walk-around fishing boat
Top-of-the-line electronics and safety gear
Pro staff for Gibbs/Delta, Silver Horde, Rhys Davis, Seagaur Fluorocarbon and Fethastyx rods
What Our Guests Say
Click here to read fishing stories from No Bananas guests and see more photos.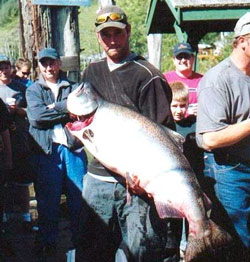 Trevor with his 62lb catch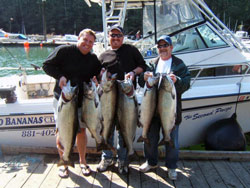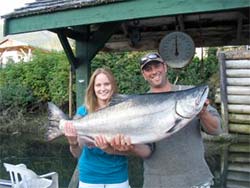 No Bananas Fishing Charters
info@nobananas.ca
Phone: 1-250-812-2123