August 13 Port Renfrew Fishing Report
Port Renfrew's fishing continues to be fantastic...it is absolutely, no question, peak season.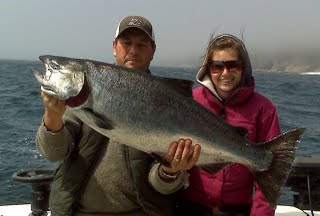 Trevor from
No Bananas Fishing Charters
reports "fishing has been unreal for the last week with an average of 15 to 20 hookups a day with it peaking yesterday...we played 20 springs before 11am the largest at 30lbs. Today has slowed down but we have one in the boat close to 40". Here's a picture of Teresa McGiveron with her first ever salmon....38 pound tyee beauty.
Port Renfrew Marina
reports excellent salmon fishing, with an average of 6 salmon per day over 30 pounds and at least one over 40 pounds. Halibut fishing offshore continues to be plentiful, and the coho are getting bigger. All in all, things are really good!
Now's the time experience west coast Vancouver Island fishing at its finest. Get out to Port Renfrew and get onto the water!