August 20 Port Renfrew fishing update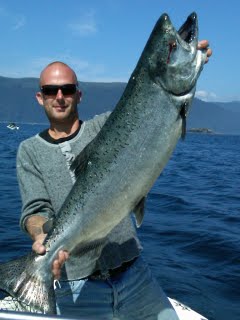 Another update from
Port Renfrew Marina
....all we can say is WOW.
Time to get to Port Renfrew for a fish!
Here's Drew Henson with a beauty.....36.5 chinook salmon...that's a TYEE!
Below is another successful day for Trevor of
No Bananas Fishing Charters
...32, 36, and 38 pounders.
***
Fishing is nothing short of FANTASTIC at Port Renfrew Marina right now! Chinook fishing is as good as it gets. Limit catches and tyee size salmon are still hitting the docks every day. We are seeing up to 4 springs a day over 40 pounds and this trend should continue well into September. Anchovies in the Purple Flash UV, Chrome Tiger Prawn and Purple Haze teaser heads seem to be the hot lures right now. The weather lately has been close to perfect, very calm seas for the most part and very little of that August fog we usually get. Check out the list of notable catches and it really says it all especially since we couldn't possibly get them all recorded.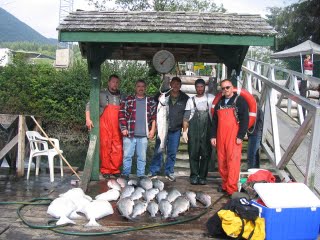 Coho are still out at Swiftsure and are growing larger daily.There should be lots of Coho over the 20 pound mark by next month. Desi Hatchard of viciousfishcharters caught what we believe to be a possible record of a 26 pound hatchery Coho this past week at the Bank along with a spectacular catch of other salmon and halibut. See pic.
Chicken Halibut are at the J bouy right now. Someone soon will start anchoring for the "barn doors" as they haven't been targeted for quite a while. Crabbing has slowed down as usual for this time but if you are persistent you will get them.