August 26 Port Renfrew Fishing Report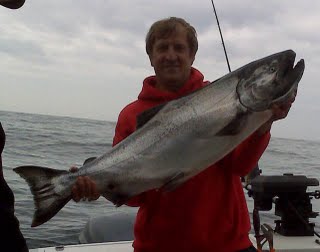 A couple of reports this week out of Port Renfrew.
Trevor from
No Bananas Fishing Charters
reports: "salmon fishing has slowed considerably both the beach and Swiftsure Bank. Halibut is still hot between the Chicken Ranch and the J bouy. The Bank is still producing lots of coho and the odd spring salmon. Logan and East Point are the hotspots for beach fishing although its quite slow. Any real bite has been on the high slack. Here's a pic of a 41 pound spring salmon."
Kelly from
Last Chance Fishing Charters
reports from last weekend: "
Swiftsure Bank is hopping, south side has been good for hatchery coho up to 15 pounds. Small spring salmon on the south side trolling large spoons 50-150 feet, more springs down deep, bigger ones up top. Halibut at J Bouy, bigger halibut east of the bouy on an ebb tide. Salmon fishing spotty along the shore, I suspect it to get better as we wait for the next rain. Good
colours for me on the beach have been a Chartreuse Krippled Anchovy with Reg/Glow Flasher, and the biggest Anchovies/small herring I could find. Crabbing has been poor".

So....sounds like the fishing isn't as good as it has been for the last few weeks, but still some pretty good potential, especially out at Swiftsure Bank. With the halibut limit now 2 per day, it is a good time to get out there and catch some flat fish....out of the ocean, into the fish n chips!

Good luck out there.