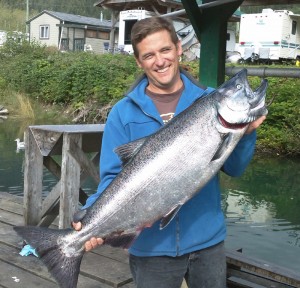 As we move info Fall, Port Renfrew's fishing has mostly switched from Chinook to Coho salmon.  Though there's still the odd Spring salmon around, like this 31 pound beauty caught with Hindsight Fishing Charters last week.
There are coho salmon in the San Juan Bay now, with lots of jumpers right at the river mouth.  However, not too many reports of people hooking into them there.  Most of the coho catches are out by the Can Buoy and beyond into the deeper water.  Jolly Rogers Fishing Charters reports that the coho aren't huge, up to 10 pounds or so, but there's plenty of action.  You are allowed to keep 2 hatchery coho caught outside the Bay, and 2 wild coho caught in the Bay, for a maximum daily limit of 4 salmon. Here's a map that explains the salmon retention opportunities.
Port Renfrew Marina is holding its annual coho salmon derby on Oct.1/2.  It is $25/rod, with $5 to the San Juan Enhancement Society and the rest winner takes all.  Always a good time, a great way to end off the season.
Good luck out there!