It sounds like there's a late season spring/chinook bite on right now…when you get a report like the one below from No Bananas Trevor, then it is time to get out to Port Renfrew while the getting is good!
"Who woulda thought 15/20 spring days in sept !!! Maybe 5 or 6 boats out and all killing it . Had a triple header two 25lb springs and a 20 something coho ! Coho went back but pretty cool to see."
BEFORE: that's what you want a sounder to look like…the big clumps are bait-fish, the arcs are chinook salmon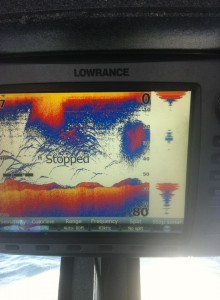 AFTER: Nice chinook salmon hooked and landed, smiles and tasty dinner tonight!