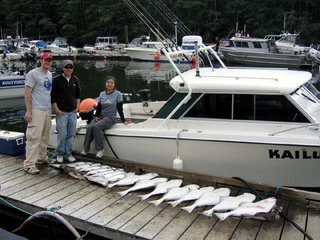 Glenn from Back for More Charters sent in this photo of a great day's fishing out of Port Renfrew. That kind of fun is hard to beat.
Word out of Port Renfrew is that a 56 pound spring salmon was caught earlier this week, and there are coho approaching 20 pounds. Very impressive, in the "fish of a lifetime" category.
There is still lots of halibut on Swiftsure Bank, and coho too. It is a great time to be fishing Port Renfrew.
No Bananas Charters posted this tip on fishing Camper Creek to the sportfishingbc forum: "the fish are all over but best bet is to start in 50ft of water fishing 25-45ft. 41ft seems to be my magic depth. If that doesn't work move out to 100ft of water and fish from 40-70ft, there seems to be more fish out there. I've been getting bigger fish in close, but sometimes you have to wait." Good advice…
Dan Burkmar sent in the following report and photos: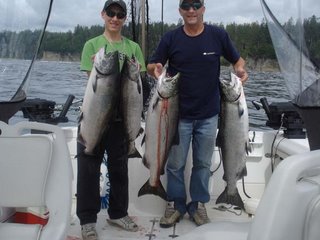 "We got these fish on August 26: 15 pounder,
21 pounder, 25 pounder, 25 pounder.
We got these fish up by Logan Creek on anchovy.
I would like to say thank you to the Hindsight charter boat as he helped us out on our 3rd fish.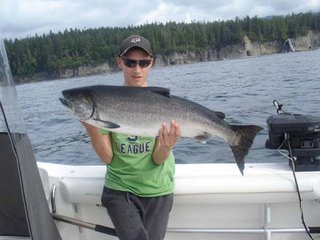 The fish took off and wrapped around his fishing line and downrigger he kicked the boat in reverse and got us untangled off his downrigger but we were still tangled around his line. So he let his rod free spool and let us get the fish in the boat. It ended up being 25 pounds….Thank you sooo much"
Nice for a change to hear a story of friendly and polite fishing, in our busy and competitive world.
Good luck out there.