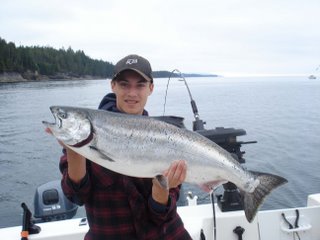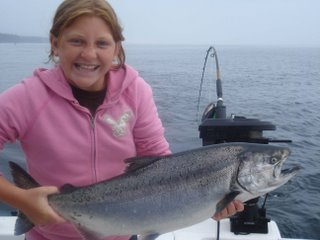 A bunch of great Port Renfrew fishing photos from Dan Burkmar. Dan (14 years old) caught a 21 and 32 pounder. Nicole (12 years old) caught a 32 pounder as well. All caught at Camper Creek, on anchovies. Welcome to the Tyee club! Dan reports: "All of the fish really hard fighters like they always are in Renfrew." Nice!
Fishing is still reported as hot and cold for springs, although there seems to be decent salmon being caught on "The Beach" (Logan Creek to Camper Creek), with a fair number of 20-35 pounders coming in. There is plenty of chicken-sized halibut, 15-30 pounds, off Swiftsure Bank. As well, the coho are in, with fun surface fishing action.
Some foggy days, so bring your GPS. Although Sunday it burned off, leaving hot sun and the seas as calm flat as you're ever likely to see on West Coast Vancouver Island. So, you never know what you're going to get until you get out there.