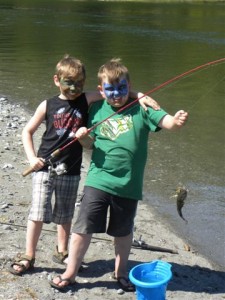 No reports to pass along this week, but with the weather warming up and the winter storms subsiding, there should be more interest in Port Renfrew fishing soon.
In the meantime, here's a photo sent in by Jody Friday of some summer fishing fun.  Jody says: "This photo is of my great nephew Kierce Nelson and my grandson Jake Walters with their big catch of the day. We love to camp at Port Renfrew and while we're there these boys fish everyday at the mouth of Gordon River."
Nice one, thanks Jody, and good job Kierce and Jake!  Next summer the goal is to get out onto the big water and get yourselves a salmon!  Or maybe even a halibut!
Whether little fish or big fish, those are big smiles and great memories … that's some Port Renfrew summer fun right there.  Coming soon…