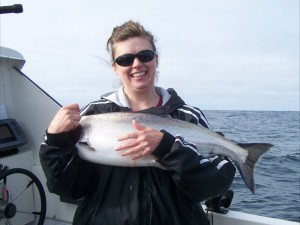 Port Renfrew fishing is excellent right now, with big chinook salmon caught along the Beach and out on the Swiftsure Bank abundant salmon and halibut.
More details from Port Renfrew Marina's report:
"Everywhere from the "chicken ranch" to East Point was on fire with limit catches for most boats. The offshore fishery is seeing bigger average size springs than usual with many Chinook in the 20 pound plus range.  Plugs, hoochies and large spoons, fished deep, are the ticket. The "beach" catches were coming in on a  anchovy or small needle fish spoons on long leaders. Fish seem to be in the 27 foot to 37 foot depth range."
John from Hindsight Fishing Charters sent in some photos of the Dunn party having a great day out there.
Good times!