Port Renfrew's fishing has been amazing this week. Swiftsure Bank has been delivering up the fish, with quick limit catches of halibut and salmon.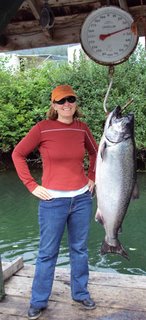 The spring salmon are deep, 200′, and are mostly being caught with white plugs and hootchies — up to 20-30 pounds. Coho and pinks are shallower and will bite on pretty much anything…once you're into a school of them, it is non-stop action. In a trip on Sunday, we couldn't keep the gear in the water more than 5 minutes without a bite…double headers common.
The halibut were small chickens, up to 25 pounds, many caught using the regular jigging with a PowerBait grub or large spoon, but most caught while trolling for salmon deep. Port Renfrew Marina reports that large halibut have been caught lately too, up to 160 pounds. They are out there if you want to chase them.
Closer in to shore at "The Beach", it has been off and on for the big spring salmon. Persistence is the key, with reports of long days trolling, but with success…many fish in the 30s caught this weekend and a few in the 40 pound class. Camper Creek and East Point are the current hot spots.
Come on out to Port Renfrew and get fishing!