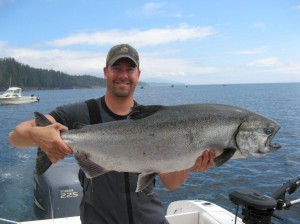 Some great fishing reports coming out of Port Renfrew. this week.  Here's "HL" with a beauty spring salmon, caught by casting a fly at porpoising springs. A great fight!
Kelly from Last Chance Fishing Charters reports "Fishing on the Swiftsure Bank was damn good for Spring salmon, hot hot hot, quick limits, several north of 30. Halibut was fair in close, but the usual anchor holes are getting pummelled, time to think outside the box guys! PM can be scratchy on the bank, best bet is first light, with weather like we have been having, run right out there and get 'em!"
"Hootchie Bob" had a good trip too "Two days of big slab action at Camper Creek, out at first light and our limit by 8:30. 1- 40lber, 2-30lbers and a scrappy 28lber to round it out. Out to 600 ft of water to bag a sockeye and three pinks and back in to dry land by noon. Next day first light and another four slabs in the boat. 1-35lb , 1-30lb, a 26 and a 22, with a 24lber released for good Karma. Fresh run came through on the tide swing. Smaller fish, but super scrappy and shiny bright. Out to 100 feet of water for two quick double headers of pinks and the fishing was done. Probably my best trip of fishing… ever!  Lot of soft hits,especially at first light. Had to watch the lines like a hawk as a subtle tic was enough to maul the bait. Most hits were preceded by a tic on the line, with a good rod pump as much as twenty seconds after, so dont be quick to pull up if you think you had a strike. Ebb fishing at it's finest!"
So there you go … clearly some pretty good Port Renfrew fishing to be had right now.
The Port Renfrew Marina is holding its 14th annual Labor Day Derby on Sept 3rd and 4th. Proceeds to the San Juan hatchery. Tickets $55 at the Marina, includes a t-shirt, dinner, beverages and a live band.
Also a Port Renfrew Coho Derby "Winner Take All" will be held this Oct. 1st and 2nd.