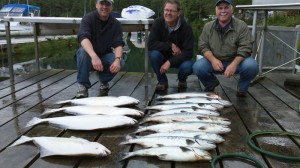 A few reports to pass along from the fishing charter folks in Port Renfrew — the last week has been pretty good fishing!
Blair from Swell Time Charters has had some good luck lately.  Here's a photo of a happy crew from a Swiftsure Bank fishing mission, with their limit of spring salmon and halibut.  The chinooks were pretty steady, in the teens and low 20s.   The halibut were caught on the drift at the Chicken Ranch … with reports of larger halibut on other days caught while at anchor on the north side of the Swiftsure closure.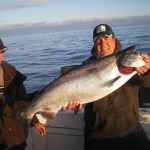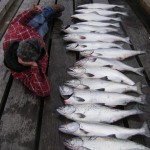 John from HindSight Charters had a nice report from a happy guest "Big thanks to John and Quinn for the 3 days (one day until sunset ) from the guys at Tunkwa Lake. Fantastic guys who made the best out of each day to find fish from the beach to the ranch, reading tides, current, bait fish, weather and the best part is the way the guides out of Port Renfew work together as a team! Great accommodations next to the beach.  One should see John move to a pulsating rod, WOW, also the half eaten sandwiches all over the place when the bite was on Saturday on the ranch, lol.  A 55 lb chicken and a 33lb Spring sure can smoke a reel! Thank You Port Renfew"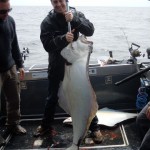 Dan from Pacific Sportsfishing has also been catching a bunch of salmon and halibut on "Knuckle Buster".
Finally, here's a youtube video of a Jolly Rogers Fishing expedition for halibut and salmon in early June
Good times to be had in Port Renfrew, come on out and have some fun.