With the nicer weather, fishing efforts are increasing around Port Renfrew, with more boats arriving for the season.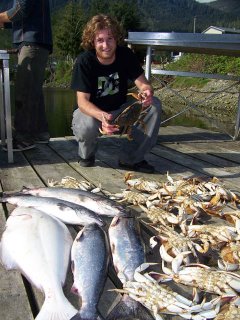 Jolly Rogers reports a fun day with Tyler from Australia, catching his first salmon, halibut, and Dungeness crab. Below is his report:
Halibut catches are steady, in the 30-50 pound range, with some bigger. Early season halibut fishing tends to be at anchor closer to shore to the west of Port Renfrew…fewer bites than Swiftsure Bank, but bigger fish on average. There's a few monsters waiting out there in the secret spots….JR has a few tricks up his sleeve. Port Renfrew's early season spring salmon fishing has been excellent, with limit catches of medium sized chinook salmon right out front of the San Juan Harbour, between the whistle buoy and East Point. Salmon action in the 10-20 pound range is fast and furious towards Camper Creek too — find the bait, and the salmon will be there too. If the early season fishing is any indication of what's to come, everyone is very hopeful for an excellent salmon fishing season ahead. The crabbing in San Juan Harbour is outrageous…limit catches in every trap, 7-8 inch hard shell Dungeness crabs. SO sweet.
Port Renfrew Marina also reports good fishing last week:
Expectations are running high for a great Chinook return and if the last few weeks are any indication we would have to agree. Lots of limit catches coming from the can buoy from 40-85 feet deep on any needle fish pattern.
Halibut fishing is very good with quite a few in the 80 pound range and a couple even larger. The weather is still a problem this early in the year so leave prepared and informed of sea conditions.
Crabbing is the best we've seen!! Limit loaded traps are the norm right now. Fresh and sweet, the first of the year can't be beat!
****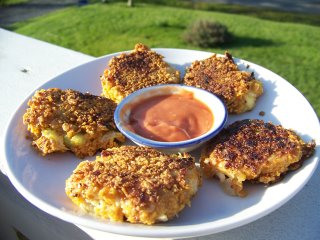 Here's a picture of some super tasty Port Renfrew Dungeness Crab Cakes…recipe coming soon.
Sounds like it is time to get out to Vancouver Island's west coast and get going on some Port Renfrew fishing adventures of your own!