Jolly Rogers Fishing Charters reports: "Late summer has provided excellent fishing out of Port Renfrew. We have had good catches of salmon and halibut lately. The photo is Kevin Robinson and crew from Grand Prairie, with a good catch of spring and coho salmon, halibut and ling cod. The Coho salmon are large and plentiful … fishing should be good well into October this year!"
Kelly from Last Chance Fishing Charters reports that the spring salmon fishing on the beach has slowed, but there are lots of nice big fat coho, plus a lot of feeder spring salmon (10-15 pounds) on the bottom in 70-200 feet off the Harbour mouth. For something different, he reports a lot of Humboldt Squids around….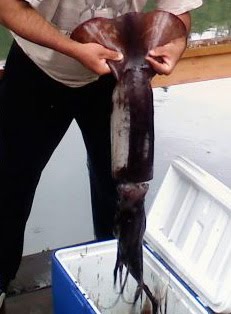 some guys hooknig 2-3 per day. He took home 3, using the tentacles for halibut bait, and the mantles for Calamari. "In the event anyone wants to target these things, start in 100 feet of water and troll out slowly with salmon gear (They seem to like spoons), and when you get a dead weight that bounces from time to time, slowly bring it in. Net it and get it in your cooler, if you gaff it, you'll get inked.. Couple guys tried 'em, as long as you remove both layers of skin, they said they were quite good."

Mike Soohochoff posted an excellent Port Renfrew fishing trip report:
"Back from 3 days of fishing Rennie.Springs are almost non existent along the beach but the bank is loaded with coho. Friday on the bank was astounding! Birds by the thousands following a line of krill that stretched for miles.herring feeding on the krill and coho feeding on the herring.Oh, and humpbacks by the dozen. Picked up our limit on coho in about 10 minutes-average one 12lbs largest 16+. Halibut was more difficult and we definitely worked to get our limit. Saturday morning was along the beach from Owen to Logan.No springs save for one jack and only two wild coho. Knocked off two Humboldt squid about 3ft long at Cullite-made for some tasty calimari though.Crab trap was full of females
Sunday was off Carmanah & Nitinat. Scraped up 2 more hali before we got blown off. Lots of salmon in the estuary when we left. All this rain should spur them on.All in all a decent trip." Thanks for the report, and for the awesome whale photos.