Port Renfrew Marina reports that the spring salmon fishing around Port Renfrew has really improved in the last week, with limits and more. They report Gary Schmit as the first fisherman of the year to bring a 40 pounder into the Marina. Way to go! He caught it at Camper Creek using anchovy.
Kelly from Last Chance Fishing provides the following report: "Fishing this weekend was great, limits on chicken halibut at Swiftsure Bank. The coastline from Owen to Logan creek, among other areas, was producing some great springs, with a 40 being weighed in Sunday night. Great fishing for all, as well as great crabbing."
Mike from Heavy Hauler adds: "East point has been hot for springs. Halibut has been good offshore but you have to go to the far end to get 'em. I haven`t bothered to, still throwing the pick, landed 6 yesterday 92,55,40,35,30 and 25, and not another boat in sight". That's Big John Holman with the big fish, along with Ken Gillard and Joe Serpa, all from Vancouver Island.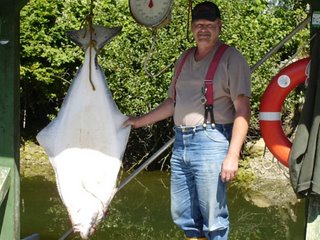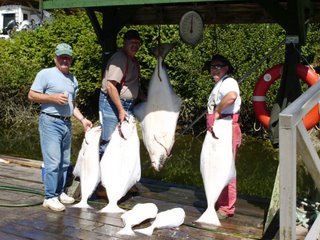 It sounds like Vancouver Island fishing at its finest, so make your way to Port Renfrew for your own fishing adventure.