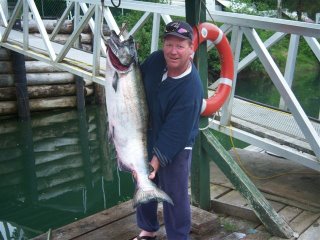 Port Renfrew Marina is reporting typical June fishing. It isn't as hot and heavy as a few weeks ago for salmon, but the fish are still there…just fewer and farther between. There have been two 40 pound plus Spring salmon caught this week, plus a bunch of 30 pounders. Not bad if you can catch them! Here's Keith Cook with a 42 pounder caught last week.
Halibut fishing is reported to be steady…here's an awesome halibut story from the Marina: "A really amazing story though is on June 9th Randall Pruden and Carl Hien were fishing just west of Camper Creek for springs. They were using Purple Haze hoochies and barbless hooks when they knew they had a big one. It didn't take very long for them to realize it wasn't a spring but a Halibut. They could tell it was very big but had no idea it was a 120 pounder! They didn't have a gaff or spear so they ended up bringing it in with a net! They had to keep bending it to the right shape to get the fish in. How they kept a halibut that big on the line and got it in is what everyone wants to know! Apparently you don't have to go 25 miles out to sea to get the big ones!"
Crabbing is still excellent, big crabs and many, many of them.
Jolly Rogers Fishing has posted another excellent youtube video, "A Day in the Life: Port Renfrew and Swiftsure Bank Fishing." Check it out:
Good luck out there!