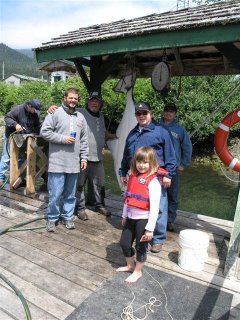 John at Hindsight Fishing Charters sent in this halibut fishing story from a guest, Terry M: "I caught this monster halibut yesterday fishing with John. It weighed 132 pounds. It took over two hours to get it into the boat. I fought it for the first hour, then Corbin took over. It took two harpoons by John to finally do it in." Nice fish….well done!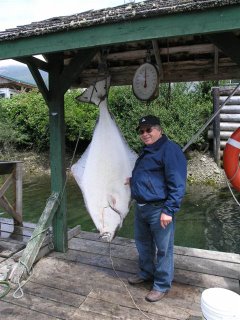 Trevor from No Bananas Fishing Charters also confirms that the halibut fishing in Port Renfrew is pretty decent of late. However, the spring salmon seem to have moved on — the great fishing a few weeks ago has led to pretty spotty chinook salmon fishing of late. The good news is there's lots of coho salmon though. It is pretty certain the spring salmon will once again begin appearing in numbers any day…the question is whether that will be today, tomorrow, or next week!
Good luck out there.