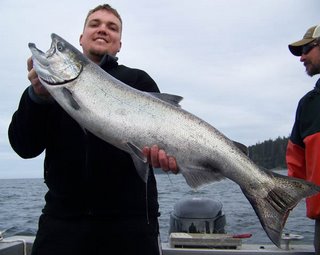 Last week saw some excellent salmon fishing in Port Renfrew, with fast and furious Chinook salmon action. The fun continued into the weekend, where it slowed down a bit…steady, but not as crazy good as it was. Perhaps the run has passed by…but who knows when the next one will arrive? The only way to be sure is to get out there and try!
Jolly Rogers reports a few fun days as well, with quick action for Chinook salmon 10-20 pounds, and up to 28 pounds.
Trevor from No Bananas Fishing Charters had a good couple of days, limiting on halibut in Victoria, then the next day fishing salmon in Port Renfrew. His guests limited out with 8 spring salmon to 25lbs.
There is not a lot of halibut fishing to report, with the salmon so good. There have been a few halibut here and there, mostly closer to shore caught at anchor. No reports yet from Swiftsure Bank…but they will be coming soon.
The crabbing in San Juan Harbour continues to be amazing with multiple limit catches and the ability to be very picky in only choosing the biggest hard-shell keepers.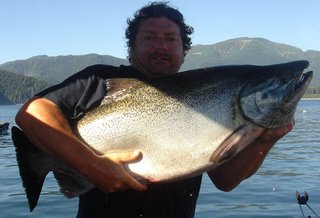 And just to get you thinking of the fun to come, here's a picture of a 52 pound Tyee salmon caught in Port Renfrew in '07 by guests of Seawind Fishing. How about that! The lucky angler is Hessel, from Holland.
Get out to Port Renfrew and get those lines in the water!